The 9th Class of APDA Global Young Leaders Course
To Propose a New Role of Youth in Poverty, Environment, and Aging Issues
Ms. Farhana Haque Rahman
Senior Vice President of Inter Press Service (IPS)Senior Vice President of Inter Press Service (IPS)

17 October 2021
On 25 September, the 10th class of APDA Global Young Leaders Course, planned and established by Hanna Yoon, a Strategy & Communication Consultant / General Manager of Education of APDA, was held with the aim of proposing policies for APDA Youth Forum. Ms. Farhana Haque Rahman, Senior Vice president of Inter Press Service (IPS), participated as an instructor and made policy proposals on the theme of youth's role in solving poverty, environment, and aging problems.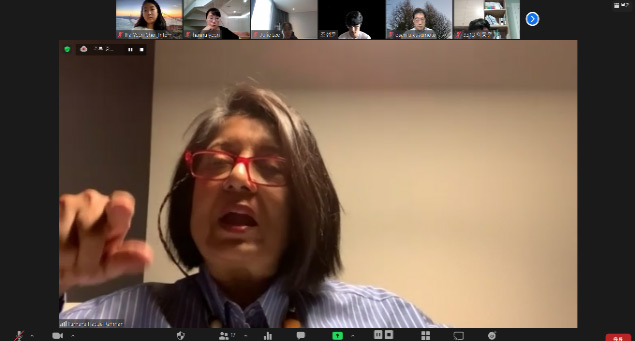 This class was conducted by Ms. Rahman. Students prepared a youth forum based on what they have learned through the previous nine classes, and Ms. Rahman helped them with the feedback. She gave a lecture on the role of adolescents contributing to the solution of accelerating environmental problems and poverty and aging problems. In particular, she gave a lecture on how students can derive meaningful results from news articles and forums.
While preparing for the forum, students devised policies to solve the problems of environment, poverty, and aging, and thought about what role teenagers could play in this area. First, the students identified the cause of the problem on each topic for each team and did in-depth discussions. Then Students had time to derive social problems of team-specific topics based on the UN SDGs, come up with various ideas on how to solve them, and find solutions to overcome the global environmental, poverty, and aging problems. Students were able to improve their practical situation analysis and problem-solving skills through the process of analyzing and exchanging feedback on the realistic benefits and risks of the policy with Ms. Rahman and Dr. Yoon.
Each team proposed holding a contest and an environmental forum to solve the carbon emission problem, and suggested basketball trash cans based on the nudge policy and collaboration with artists as alternatives to carbon reduction. Meanwhile, in order to distribute uneven food resources, a policy to educate smart agricultural technology to the minority was proposed, and a policy to distribute health status check programs using AI to the elderly was devised as well. Through these efforts, it is expected that youth will be able to play a major role in providing creative ideas or helping the elderly who have difficulty using machines. Ms. Rahman and Dr. Yoon pointed out risks or provided more effective advice to the policies proposed by the students.
The course is held every Saturday in real-time online classes, all in English. Students who participated in the class take lectures consisting of 10 experts in each field, including women, children, health, economy, and smart agriculture, and discuss international issues. All curriculums and youth forums are overseen by Hanna Yoon, a founder of APDA Global Young Leader Course.
* This article is written based on the content of the APDA interns attended APDA's Global Young Leaders Course.
** Copyright of this article is in the APDA and it is prohibited from unauthorized copying without permission
Keywords: APDA, Global Youth Forum, SDGs, Environment, Aging, Poverty, Farhana Haque Rahman, IPS
Writing and editing by
Intern, Young jun Park Intern, Jun young Park Intern, Daseul Shin Intern, Yeaun Lee Intern, Hayeon Choi
Planning/General Manager
Hanna Yoon (Ph.D. in Media and Governance) APDA Strategy and Communications Consultant/ Founder and General manager of APDA Global Global Young Leaders Course Director of KGM Lab Adjunct Professor at Soongsil University