The 5th Class of APDA Global Young Leaders Course
Population aging and low fertility: Life-cycle approach
Dr. Rintaro Mori
Regional Adviser for Population Ageing and Sustainable Development at United Nations Population Fund (UNFPA)
30 August 2021
On 14 August, the 5th class of "APDA Global Young Leaders Course", founded by Hanna Yoon, a Strategy & Communication Consultant / General manager of education of APDA, was held with the goal of making policy proposals for the APDA Youth Forum. In this class, Dr. Rintaro Mori, Regional Adviser for Population Ageing and Sustainable Development at UNFPA, participated as a lecturer and delivered a lecture on the topic of "Population Aging and Low Fertility".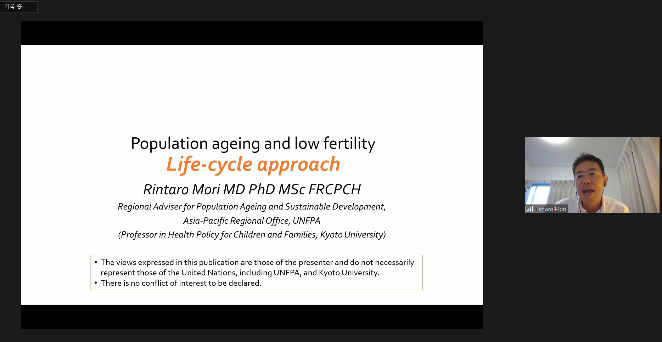 This class pointed out the problems of the rapidly increasing aging population and low fertility rate, and students shared opinions and had group discussions to solve the problems. Through his lectures, Dr. Mori diagnosed the relationship and problems between population aging and economic growth using visual data such as the status of rapid aging in the Asia-Pacific region and the proportion of elderly dependence. He also took the employment uncertainty of women due to gender inequality as an example and analyzed the causes of the subject in various ways, such as gender, economy, education, labor and employment.
First, students share the opinions based on government policies on aging, low fertility, education, corporations, medical care, health and relevant policies in South Korea, Japan, the Philippines, and India that have been researched in advance by teams. Each group investigated the socio-economic status and policies of the four respective countries previously, and presented it. In this process, national policies that threaten women's human rights, such as the caste system and the patriarchal system, and educational problems such as the low quality of public education and the absence of sex education were pointed out. The students also proposed new visits and virtual health services to increase accessibility, or a policy to provide employment benefits to women and people with disabilities to reduce discrimination. Dr. Mori helped each team develop a more in-depth discussion by asking more in-depth questions based on the tasks they had prepared in advance.
The course is conducted in real-time online classes every Saturday, all in English. Students who participate in the class will take lectures consisting of 10 experts from various fields, including women, children, health, economy, and smart agriculture, and discuss international issues. All training courses and youth forums are organized by Hanna Yoon, a founder of APDA Global Young Leaders Course.
* This article is written based on the content of the class after APDA interns attended APDA's Global Young Leaders Course.
** Copyright of this article is in the KGM Lab. and APDA and it is prohibited from unauthorized copying without permission
Keywords: APDA, UNFPA, IPPF, SDGs, Global Youth Forum, social issues, Population aging, Low fertility rates
Writing and editing by
Intern, Young jun Park Intern, Jun young Park Intern, Daseul Shin Intern, Yeaun Lee Intern, Ha yeon Choi
Planning/General Manager
Hanna Yoon. (Ph.D. in Media and Governance) APDA Strategy and Communications Consultant/ Founder and General manager of APDA Global Young Leaders Course Director of KGM Lab Adjunct Professor at Soongsil University