APDA/AFPPD
Submission of GCPPD2023 Declaration to G20 / Activities for Strengthening National Committees on Population and Development: India
22 August 2023, New Delhi, India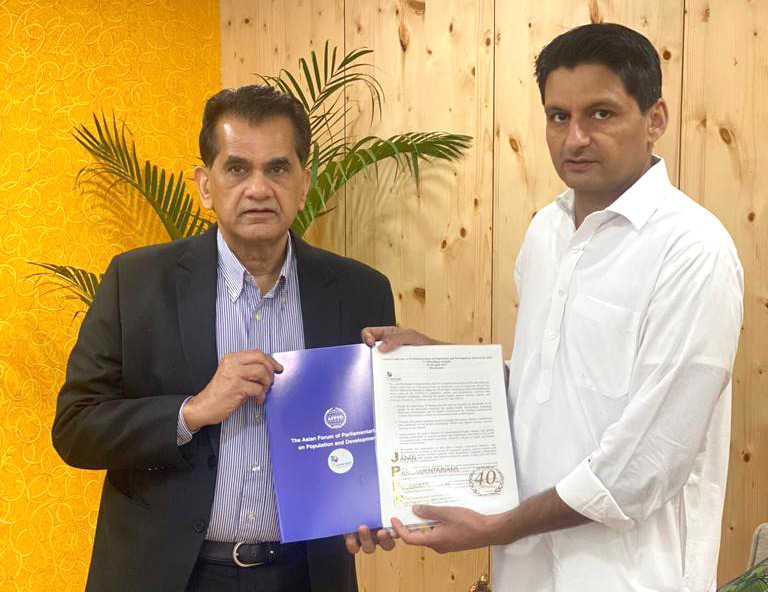 On 22 August, the Asian Population and Development Association (APDA) and the Asian Forum of Parliamentarians on Population and Development (AFPPD), together with the Indian Association of Parliamentarians on Population and Development (IAPPD), organized a parliamentarians' workshop with focus on youth in New Delhi, India. With support from the United Nations Population Fund (UNFPA) and Japan Trust Fund (JTF) and in cooperation with International Planned Parenthood Federation (IPPF), this activity was intended for strengthening IAPPD's engagement in population and development issues and was attended by more than 60 participants offline and online.
Hon. Takemi Keizo, MP Japan and Chair of AFPPD, Hon Deepender Hooda, MP India and Vice-Chair of AFPPD, Hon. P. J. Kurien, Chair of IAPPD, other Members of Parliaments and experts in attendance pointed to investing in youth and addressing adolescent sexual reproductive health (ASRH) as common issues in the Asia-Pacific region, and noted high school dropout rates and high unemployment, among others, as challenges faced by India in particular.
Furthermore, with the G20 Summit in sight, Hon. Deepender Hooda handed over to G20 Sherpa the declaration that was adopted at the Global Conference of Parliamentarians on Population and Development Toward the 2023 G7 Hiroshima Summit (GCPPD2023) organized by APDA, AFPPD, and the Japan Parliamentarians Federation for Population (JPFP) in April and that was submitted to Prime Minister of Japan H.E. Kishida Fumio prior to the G7 Summit. The GCPPD2023 Declaration calls on G7/G20 governments to prioritize such population issues as ageing, youth, gender, as well as human security.
■Inter Press Service (IPS)
Lawmakers Call on G20 to Prioritise Spending on Youth, Gender, and Human Security