APDA
Arab and Asian Parliamentarians' Meeting to Follow-up on ICPD25 Commitment: Addressing Youth Empowerment and Gender-Based Violence
1-2 March 2023, Jakarta, Indonesia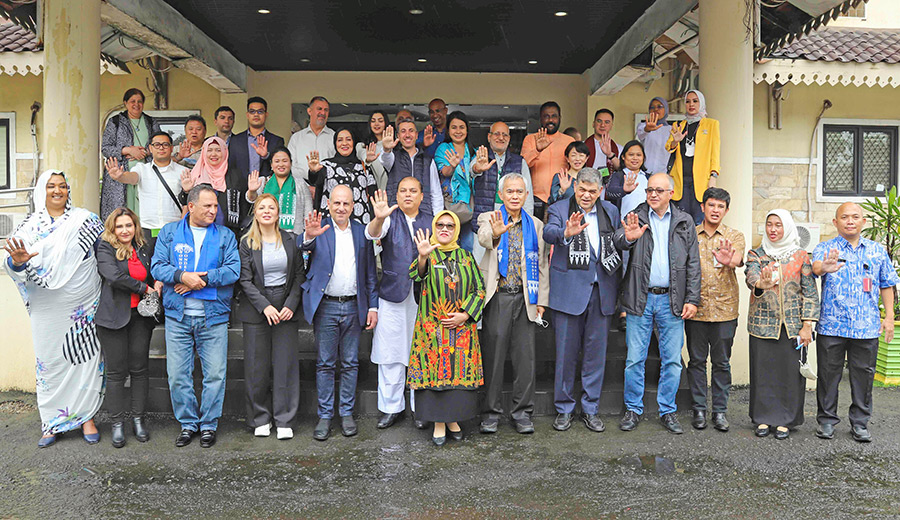 The Asian Population and Development Association (APDA), together with the Indonesian Forum of Parliamentarians on Population and Development (IFPPD) and the Forum of Arab Parliamentarians on Population and Development (FAPPD), organized the Arab and Asian Parliamentarians' Meeting to Follow-up on ICPD25 Commitment on 1 March. The meeting was held with the support of the United Nations Population Fund (UNFPA) and the Japan Trust Fund (JTF), and with the cooperation of the International Planned Parenthood Federation (IPPF) and BKKBN.
Held in a hybrid format, the meeting connected the venue in Jakarta, Indonesia, with online participants. A total of 80 participants participated, including some 60 participants from 18 countries meeting face-to-face at the venue.
In the opening session, the addresses were delivered by Hon. Prof. Keizo Takemi, (MP Japan, Chair of AFPPD and Executive Director of JPFP), Dr. Hala Youssef (UNFPA Arab States Regional Office), Hon. Pierre Bou Assi (MP Lebanon and President of FAPPD), Hon. Dr. Dede Yusuf Macan Effendi (MP Indonesia and Chair of IFPPD) and Dr. Hasto Wardoyo (Chair of BKKBN).
In his address, Hon. Prof. Takemi referred to the current world situation, including the Russian invasion of Ukraine, the earthquakes that hit Turkey and Syria in February, and the prolonged COVID-19 pandemic and expressed his heartfelt condolences for the tragic loss of many lives. He noted that gender-based violence (GBV) is on the rise in such emergency settings. Furthermore, he called upon parliamentarians of each country to achieve UHC and work together towards building a healthier, fairer, and more prosperous society where no one is left behind.
The following four sessions focused on the prevention of GBV and child marriage in particular, sharing experiences and lessons learned from both the Arab and Asian regions and discussing the way forward. The parliamentarians emphasized that law-making is not enough and that they have an important role to monitor the implementation of the laws.
In the closing session, Hon. Dr. Jetn Sirathranont (MP Thailand and Secretary General of AFPPD), Ms. Tomoko Fukuda (Regional Director of IPPF East & South East Asia and Oceania Region), and Ms. Anjali Sen (UNFPA Representative in Indonesia) delivered speeches. Ms. Fukuda encouraged parliamentarians to continue their work on the ICPD Programme of Action, saying "We as the older generation have to ensure that the world is a better place for younger people and children who will be born into this world".
On the next day on 2 March, the participants had study visits in Jakarta. They received a briefing at a Youth Information Center (PIK-R), which provides young people with necessary information including RH and assists youth group activities, and at a Women Crisis Center, which supports GBV victims. Some parliamentarians said that they would like to set up such centers as these in their own countries.
■Inter Press Service (IPS)
Parliamentarians Pledge to Act on Grim Realities of Child Marriage, Gender-Based Violence ■A short video clip made by IFPPD
Arab and Asian Parliamentarians' Meeting to Follow-up on ICPD25 Commitment